Dr. Lawrence Frank has co-authored two books pertaining to health and community design, and the public health impacts of sprawl.
---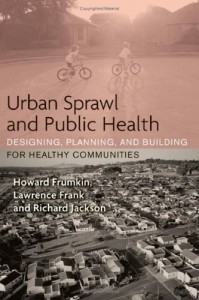 ---
---
Book chapters
Frank, L.D. "Healthy Communities," in Independent for Life: Homes and Neighborhoods for an Aging America, ed. Henry Cisneros et al. University of Texas Press – 2013.
Frank, L. and A. Bigazzi, "Transportation: Vancouver the City and Vancouver the Region", invited book chapter in Reclaiming Vancouver: Challenges of Globalization, Social Justice and Sustainability, UBC Press.
Frank, L. Ulmer, J. Appleyard, B. Bigazzi, A. "Complete and Healthy Streets." Urban Design Companion. Editors: Loukaitou-Sideris & Banerjee. Routledge.